Julie Sillitoe inquest: Taxi driver's death 'accidental'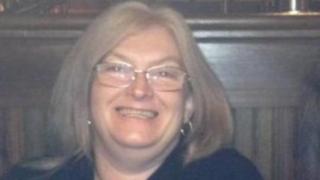 A taxi driver who died when a piece of masonry fell on her from a 120-year-old building was killed accidentally, an inquest jury has ruled.
Julie Sillitoe, 49, died near instantly while driving along High Holborn, in London, on 14 February.
Two passengers survived despite also being crushed by a falling parapet weighing about two tonnes (2,000kg).
Passenger Bo Houtenbos told St Pancras Coroner's Court: "People were trying to pull her out. She had no chance."
No risk assesment
The inquest heard Ms Houtenbos and her boyfriend Luke Fitton had been celebrating Valentine's Day and were travelling in the back of the minicab.
Ms Houtenbos said she did not remember the accident, but came round after being knocked unconscious.
"I could see her in front of me and she wasn't saying anything," she said.
The couple managed to crawl out of the wreckage, but the driver was pronounced dead.
The inquest heard the owner of the six-storey Victorian building, Taskin Izzet, from Greenburgh Development, had not carried out a full structural survey or risk assessments on the property when he bought it in 2007.
He was not required by law to carry out a full survey or to ensure the old building compiled with current legislation, the jury was told.
When asked by coroner Mary Hassell if he would do anything differently now, he told the court: "Obviously, carry out a full structural survey."
He added: "Following what happened I also asked myself that same question, is there anything I could have done that could have prevented this tragedy?
"I can't think of anything that can help answer your questions."
High winds
Steven Sillitoe, a security consultant, said his wife's death should act as a warning to owners of old properties who have a "duty of care" to make sure they are safe.
"There needs to be legislation in place where owners of old buildings are obliged to carry out structural checks. I was surprised that isn't already the case," he said.
He described his wife as "my everything, a wonderful mother and doting grandmother".
Chartered structural engineer Philip Deane, who inspected the site a day after the accident, told the court high winds probably caused the debris to dislodge and crash down.
He added the building's design meant there were "inherent possibilities of things to go wrong" although having examined it there was nothing to suggest it was badly maintained.