London Underground applies to enlarge Bank Tube station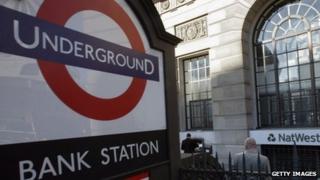 An application to enlarge Bank Tube station has been submitted to the government by Transport for London.
Plans include a new southbound Northern Line tunnel, together with wider platforms, more lifts and escalators.
If plans are approved, when work is complete the station would be able to cater for more than 140,000 passengers - increasing capacity by 43%.
About 98,000 passengers currently go through Bank station during each morning rush hour.
Transport for London (TfL) submitted a Transport and Works Act Order application to the Department for Transport for the works to be carried out.
'Huge demand increase'
If the plans are approved, building work would begin in 2016, with the station improvements ready for passengers by 2021.
London mayor Boris Johnson said: "Bank is a key interchange for passengers and it's vital that we keep pace with the huge increase in demand we're seeing now and in the future."
London Underground's capital programmes director David Waboso said: "I'm proud of the effort our team has made to develop this project and that we're now at the point to seek powers from the government and drive it forward."
A YouGov poll, published in April 2013, saw Bank voted the "most disliked" London station.
The station, which is linked with Monument station, is one of London's busiest, with the Bank-Monument complex consisting of three ticket halls, six lifts, 10 platforms and 15 escalators.