Police officer vacancies 'leaving gaping hole in Met'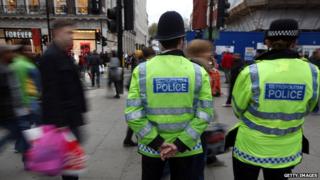 "High" vacancy rates are leaving a "hole at the heart of the Met", the London Assembly Labour group has said.
The group said figures for May, the most recent available, showed there were 1,209 vacancies for police sergeants and constables across London.
Scotland Yard said the statistics were just a snapshot and total officer numbers were increasing month by month.
It said it was on course to return to a force totalling 32,000 officers within two years.
The figures obtained showed Harrow had the highest percentage of vacancies, with 15% of its sergeant and constable posts unfilled.
Waltham Forest had the highest overall number, with 72 vacancies from a force of 664.
'Absolute scandal'
London Assembly Labour group's Joanne McCartney said: "It is an absolute scandal that police numbers have been allowed to fall this low, and these vacancies are leaving a gaping hole at the heart of the Met."
A Metropolitan Police spokesman said: "Whilst these figures released in May provided a snapshot at that time, much has changed since then and the position is positive.
"At the end of August, the number of police officers in the capital was circa 31,200 and overall officer strength continues to grow each month."
A spokeswoman for London mayor's office for policing and crime said: "The mayor is committed to delivering a 32,000-strong police force by 2015.
"The Metropolitan Police are actively recruiting hundreds of officers each month and we are confident of meeting this target.
"Like any organisation of this size, there will be staff turnover and changes in availability, deployment and to respond to priorities."