London transport fares to rise by maximum of 2.5%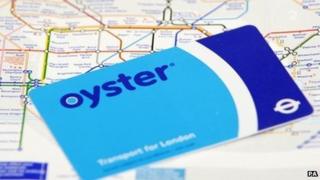 Transport fares in the capital will rise by a maximum of 2.5% from January, the mayor of London has said.
The fares will be capped at the level of Retail Price Index (RPI) inflation. The move follows an announcement by the Chancellor that commuter rail fares will also be capped at 2.5%.
Boris Johnson said the fares freeze would be "welcomed" by commuters in the capital.
However, the Green Party said the fare rise would be "a bitter start to 2015".
The London mayor sets the budget for Transport for London and normally fares would rise by RPI plus 1%, but this is the second year the fares have been frozen in real terms.
Mr Johnson said: "Whilst we need continually to invest in our transport network, and passengers understand that, it is vital we hold down fares for hard working Londoners wherever we can."
The London mayor added he had secured government funding to cover the cost between RPI and Transport for London's business plan, which set fares at RPI plus 1%.
He said the agreement would mean the cap would not compromise modernisation plans for the transport network.
London Assembly Green Party member Darren Johnson argued the cap would still mean a fare rise for commuters "who have been struggling with stagnant pay and spiralling housing costs for years".
Caroline Pidgeon, leader of the Liberal Democrat London Assembly Group, called for the mayor to be "more ambitious" over fares especially for part-time workers.
She said: "Inflation-busting fares would have been a bitter blow for most Londoners who have often seen freezes in their wages for the last few years."
She added: "However, it is the Treasury and definitely not the Mayor who should get any credit."