River Thames Tall Ships Festival set to begin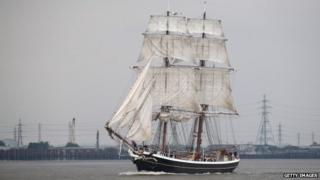 More than 50 tall ships have arrived in London for the start of the Tall Ships Festival on the River Thames.
The ships, some of which are about 100 years old, will line the river's banks from 5- 9 September.
It is the first time the event has been held in London for 25 years and will include live music and family events.
Organisers said they expect "hundreds of thousands" of people to attend the festival which begins on Friday night with a fireworks display.
The event, part of the Falmouth to Royal Greenwich Tall Ships Regatta, saw the ships start their race on 31 August from Falmouth in Cornwall.
The participating vessels include Tenacious, the largest wooden tall ship of her kind which has been sailed by a crew with physical disabilities from the Jubilee Sailing Trust.
Other boats in the race included the Shtandart, a modern replica of a Russian navy flagship built for Peter the Great in 1703, and the Tecla which is almost 100 years old.
During the festival visitors will be able to view the ships from the land as well as go on board to have a look around.
The five day event starts later at the Lebara Festival Village at Maritime Greenwich with theatre group Sarruga from Catalan performing an under-water themed piece which includes illuminated shoals of fish moving over the audience, before a firework display.
The festival takes place across four sites - Maritime Greenwich, Greenwich Peninsula, Royal Arsenal Woolwich and Canary Wharf.