Palmira Silva 'beheading' suspect under police guard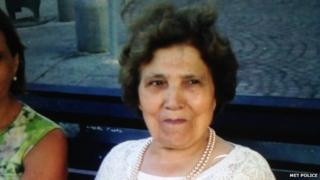 A man held in connection with a suspected beheading of an 82-year-old woman in north London remains under police guard in hospital.
The body of Palmira Silva was found in a garden behind a house in Edmonton on Thursday afternoon.
Officers found her collapsed at the scene where she was pronounced dead.
A 25-year-old man was arrested on suspicion of murder by armed officers who discharged a Taser. Officers plan to question him when he is well enough.
An officer is also believed to have suffered a broken wrist during the arrest.
Homes evacuated
Police said they were initially called to reports of a man armed with a knife and eyewitnesses said he had attacked an animal, possibly a cat or a dog.
Speaking at the scene, Cdr Simon Letchford said police had distracted the man while they evacuated nearby homes.
He said officers smashed windows to get people out of properties after the man was "cornered" in a house.
'Jumping over gardens'
One eyewitness, Freda Odame, 30, said she saw a man screaming and waving a weapon around.
"I heard shouting and banging and I opened my curtains and saw a guy holding a knife in a back garden a few doors along," she said.
Ahmed Yusuf, 19, said police knocked on his door and told him to leave the property immediately.
"The police said to drop everything. I said 'What's going on?' and they said there's a guy jumping over gardens," he said.
Detectives investigating Ms Silva's death are also looking into an earlier attempted attack on two people at another address in Nightingale Road. Officers said the pair were not thought to have been hurt in the incident.
Police said they had traced the victim's next of kin but were unwilling to speculate on the nature of her injuries or the type of weapon used.
The motive for the attack is still unclear and it is not known whether the victim and the suspect were known to each other.
London Mayor Boris Johnson has also expressed his "shock" at the attack.
"Yesterday's events in Edmonton were truly shocking and my thoughts are with Palmira Silva's family during this incredibly difficult time," he said.
"London is a safe city and incidents like this are very rare. I'd like to commend the bravery shown by the officers involved in keeping other members of the public safe during a very volatile situation."
A neighbour who knew Ms Silva, said the widow had lived in the house for more than 25 years and ran Silva's Cafe in Church Street, near Edmonton Green.
"I was speaking to her yesterday. She was weeding in the front garden, she loved her gardening," she said.
"She was such a sweet lady. She was slow getting around but she still went to work. I think really after her husband died that's what kept her going."
The police watchdog, the Independent Police Complaints Commission, has been informed of the incident.
A post-mortem examination is due to take place on Saturday at Haringey Mortuary.