Schoolgirl Arsema Dawit 'stabbed 60 times' by jealous ex-boyfriend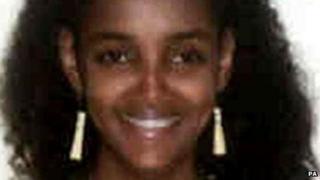 A schoolgirl was stabbed 60 times by her ex-boyfriend who said she had cheated on him, an inquest has heard.
Arsema Dawit, 15, was killed in a "sustained" attack in a block of flats in Waterloo in June 2008, a jury heard.
Ms Dawit's body was found covered in blood in a lift, along with a knife, by neighbours.
Her ex-boyfriend, Thomas Nugusse, later confessed to the murder but could not be tried because he suffered brain damage in a prison suicide attempt.
In a garbled phone call to emergency services, Nugusse, who was 21 at the time, said he had attacked Ms Dawit after finding out she had been cheating on him.
During the call, which was read to a jury at Southwark Coroner's Court by coroner Dr Andrew Harris, Nugusse said: "She was lying to me and she said she loved me and she is cheating me."
He added: "I choose I prefer to kill my girlfriend and then kill myself. I love you and I can't be without you."
Ms Dawit received more than 50 wounds to her neck and others to her back and chest, the inquest heard.
The court also heard evidence from Ms Dawit's school friend, Heaven Emanuel, who provided a statement.
'Nightmares' about murder
She said: "Arsema had been telling me that this man had been harassing her and threatening her.
"Then, one day, Arsema came to school with a bruise below her left eye. I asked her what was wrong. She told me Thomas had assaulted her and also that he had threatened to kill her.
"The next day she came to school and was exhausted physically, and said she couldn't sleep the night before as she had a nightmare of Thomas trying to kill her."
The inquest heard the pair met when they were both members of the choir at St Michael's Eritrean Orthodox Church in Camberwell.
In evidence read in court, Ammanuael Tesfazgi, a deacon of the church at the time, said in May 2008 Nugusse came to him to tell him he was in love with Ms Dawit, but she told him she "could not accept his request because her main aim was her education".
Mr Tesfazgi said Nugusse continued harassing Ms Dawit, the jury heard.
Ms Dawit's family claim her fears over Nugusse were ignored by police.
In 2009, a jury at the Old Bailey was not permitted to return conventional innocent or guilty verdicts and instead found that Nugusse had "committed the acts". He was given an indefinite hospital order.
The inquest is expected to last four weeks.