Thieves steal Household Cavalry uniforms worth over £60,000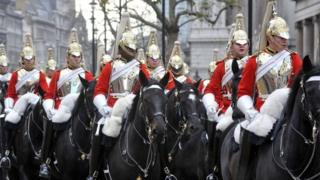 Ceremonial uniforms belonging to the Queen's guard units have been stolen.
Nine uniforms and two silver helmets worth over £60,000 were taken during a break-in in Haringey, north London.
The regalia belongs to the Life Guards and Blues And Royals regiments of the Household Cavalry, which is charged with defending the Queen.
The uniforms are worn during ceremonial events such as the Trooping of the Colour and the State Opening of Parliament.
The Army regiments count the Duke of Cambridge and Prince Harry among their commissioned members.
Police said the uniforms were stolen from military suppliers on 18 August, and appealed for anyone who is offered the uniforms for sale to contact them.