Teenager rescued from River Thames after YouTube dare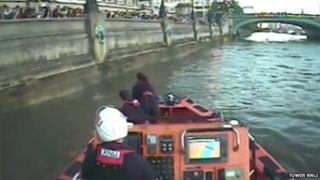 A teenager was rescued from the Thames near Westminster after jumping into the river for a prank.
The 16-year-old, who was rescued by Tower RNLI, said he had been dared to jump in so his friends could upload video footage to YouTube.
Helmsman David Norman said: "Peer pressure can be a very powerful thing... it nearly cost a young man his life."
The boy was handed into the care of London Ambulance Service.
Tower RNLI said it was already on a call near Waterloo Bridge on Sunday when crew members heard radio traffic saying a person was in the water near Westminster and tended to the boy.
Mr Norman said: "We learned afterwards that his mates had dared him to jump from Westminster Bridge.
"People just do not realise what the conditions of the River Thames can be like.
"It can be very cold - granted, not so much at this time of year - but the currents can be vicious."