Jack Durand, 14, becomes World Youth Scrabble Champion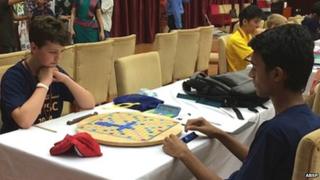 A 14-year-old boy has become the first British player to win the World Youth Scrabble Championship.
Jack Durand, from Highgate, north London, won 20 of his 24 games in the Under 16 competition held in Sri Lanka.
The Association of British Scrabble Players said Jack was "so dominant in the tournament that he was deemed the winner with two games still left to play".
Singapore's Yong Jian Rong was second with Pakistan's Mariam Arif third.
Jack's winning words included Neinei, a New Zealand shrub, Wourali a poisonous plant extract and spelling 'mistings' across two triple-word scores to get 122 points in one turn.
After the competition, which was the ninth youth championship to be held, he said he was "unbelievably happy" but had no idea how to spend the $1,000 cash prize.
In December he won the Under 18 British Championship.
During the competition, held in Colombo from 29-31 August, all 120 junior competitors played 24 games within a strict time limit of 25 minutes per player.