George Galloway leaves hospital after London street attack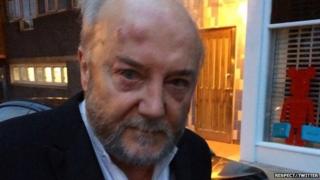 George Galloway has left hospital after being treated for injuries he suffered in a street attack in west London.
The Respect MP for Bradford West was posing for pictures in Notting Hill when he was assaulted on Friday night.
The MP suffered "severe" bruising to his head and appears to have broken some ribs, his spokesman said.
The spokesman said the attack on Mr Galloway seemed to have been prompted by the MP's views on Israel. A man has been arrested over the attack.
The attacker allegedly called Mr Galloway "a Hitler" during the assault.
'Leapt on him'
The MP's spokesman said the assailant had made reference to the Holocaust.
"George was posing for pictures with people and this guy just attacked him, leapt on him and started punching him," the spokesman said.
"It appears to be connected with his comments about Israel because the guy was shouting about the Holocaust."
Mr Galloway was interviewed under caution by police earlier this month over remarks he made about Israel.
After Friday night's attack, the MP made a statement at Notting Hill police station before being taken to hospital for treatment. He left hospital at about 06:00 BST.
He was feared to have suffered a broken jaw but the MP's spokesman said this was not the case.
A Metropolitan Police spokesman confirmed police had been called to Golborne Road at about 19:40 on Friday after a man was assaulted in the street.