Moped gang in smash-and-grab raid at Knightsbridge Rolex store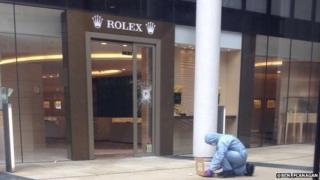 The Rolex store in Knightsbridge has been targeted by a gang riding mopeds in a smash-and-grab raid.
Four mopeds carrying seven people armed with axes and sledgehammers tried to smash the front window of the shop at about 10:30 BST, police said.
When the masked gang could not gain entry they forced the door open with a motorbike and stole a number of watches.
No arrests have been made and officers are appealing for witnesses.