Man dismantled gun and laid out ammunition at Euston Station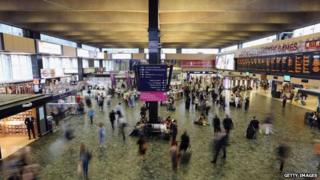 A man has admitted dismantling a gun and laying out ammunition at Euston Station in the days before Christmas.
Andre Alexis, 34, of Lovett Way, Neasden, dismantled the 9mm pistol and put three dummy rounds of ammunition on the floor on 18 December. He also had a Smith and Wesson revolver in his rucksack.
He admitted three gun-related charges.
At Westminster Magistrates' Court, Alexis was sentenced to 40 weeks in prison, suspended for 18 months.
Witness kicked gun
During the hearing, Alexis admitted two charges of possessing imitation firearms in public, one of possessing military-grade expanding ammunition and one of possessing a weapon for the discharge of a noxious gas.
The court heard that at about 23:15 GMT, some Christmas revellers became concerned after seeing an orange holdall abandoned on the concourse floor.
Prosecutor Edward Aydin said a witness saw Alexis walk over to the bag and take out a silver hand gun.
Mr Aydin said: "He then watched Mr Alexis dismantle the gun and put it in pieces on the concourse floor in front of him.
"The witness then kicked the gun parts away and said, 'what are you doing?' Mr Alexis said it belonged to his uncle or brother."
Gun amnesty
When police arrived Alexis told them he was on cannabis and the ammunition did not fit the gun.
Later analysis found the pistol and revolver had been deactivated and could not be fired.
Defending, Richard Almond told the court Alexis had arranged to hand in the guns and ammunition to the police, but did not go after fearing he would get into trouble.
Mr Almond said: "Instead, he decided to try to get rid of them safely somewhere in the countryside. That is why he was at Euston, but he had no idea where he was going."
Officers also found he had a live cartridge designed to discharge a gas at his home.
Mr Almond told the court Alexis had been in hospital for long-standing mental health problems and was on medication at the time, but his health and treatment were now improving.