Notting Hill Carnival crowds defy bank holiday rain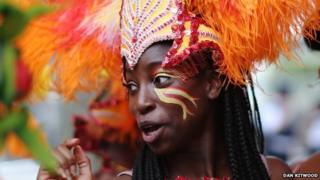 Thousands of revellers braved wet conditions in west London for the final day of the Notting Hill carnival.
The annual celebration, believed to be Europe's biggest street party, was marred by poor weather for its finale, but partygoers defied soggy conditions.
The Metropolitan Police deployed 7,000 officers for Monday's events.
The figure was about 1,000 more than Sunday and represented one of the Met's most complex operations of the year.
Sunday, which is traditionally billed as children's day, saw thousands of dancers and musicians parade through the streets alongside floats.
But the poor weather on Monday affected turnout on Ladbroke Grove along the parade route.
BBC London reporter Elaine Okyere said: "It's definitely quieter but the performers are still giving it their all despite the rain.
"One resident Silvia said she'd never seen Ladbroke grove this quiet on a carnival Monday, but she told me despite the rain the party will go on."
The carnival saw 115 arrests for a variety of offences by 17:00 BST on Monday.
Among those were 39 arrests over drugs, 11 for common assault and seven for possession of offensive weapons.
Ch Supt Robyn Williams said the force's priority was to "facilitate a safe and vibrant carnival".
"Carnival very much presents us with two extremes; those who want to enjoy the sound systems, cuisine and have a good time and those who use it as an opportunity to commit crime," she said.
Organisers said this year's event was part of the build-up to the event's 50th anniversary.
The Notting Hill Carnival Enterprises Trust said some people thought the first carnival took place in 1964, but others argue a street parade took place the following year.
However, the trust said there was documentary evidence that showed the first event with performers, costumes, music and placards took place in 1966.
This year's event paid tribute to the steel pan, the national instrument of Trinidad and Tobago, which has been a significant feature of the carnival from 1964 until the present day.