Landlord fined £1,500 over Hendon flat accessed by crawling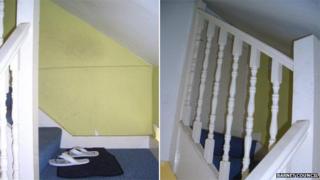 A landlord has been fined for renting out a loft room that could only be accessed by crawling into it.
Yaakov Marom, of Sunningfields Road, Hendon, was fined £1,500 after pleading guilty to failing to comply with an order served by the council prohibiting occupation of the room.
The tenants, who paid £420 a month, could not stand upright to enter the room because of the low ceiling.
The council said the entrance could prevent them from exiting in a fire.
Barnet's environmental health team found the height of the staircase was between 0.7m (2ft 3.5in) and 1.18m (3ft 10.5in), and the door to the room at an address in Sunningfields Road, Hendon, was also reduced in size.
Marom was issued with a prohibition order in February 2012 banning the use of the second floor room of the house.
The court hearing on 5 August came after council officers visited the house in September last year and discovered the room was still being used.
Councillor Tom Davey said: "At the very least tenants have the right to expect that the accommodation they are renting is safe."
Marom was also ordered to pay £1,420 in costs and a victim surcharge of £120.