Greenford murder accused youths 'told obvious lies'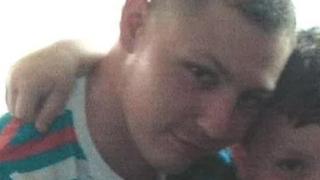 Four youths accused of murdering a man during a mugging in London told "obvious self-serving lies" to fool jurors, the Old Bailey has heard.
Dean Mayley, 24, who had learning difficulties, was stabbed while walking alone in Greenford in February.
One defendant, 17, is accused of stabbing Mr Mayley, backed up by his co-defendants.
Prosecutors said the four, who deny murder, were "a team of knifepoint robbers" looking for victims.
'Differing accounts'
The 17-year-old, who cannot be named, is accused of delivering the fatal wound to Mr Mayley, backed up by Ryan Beresford, 19, and another 17-year-old. Michael Mensah, 18, is alleged to have acted as driver for the group.
Prosecutor Simon Denison QC said in his closing speech all the defendants had given differing accounts of what happened.
"The defendants had said different things about it and as a result, all sorts of accusations have been made by the defendants against each other," he said.
"These four were a team of knifepoint robbers driving up and down the Ruislip Road looking for a victim or victims."
Mr Mayley was targeted by the whole group not just the defendant accused of stabbing him, Mr Denison said.
"We suggest that if any of them were telling the truth about those things, providing an innocent explanation for what they were doing, they would all be saying the same. They are not because they are lying," he added.
Robbery charges
Mr Denison said the defendants "told obvious self-serving lies to try to fool you and to try to avoid responsibility for what they have done".
Mr Mensah, 18, of Greenford, west London, Mr Beresford, 19, of Acton, west London and the two 17-year-old boys who cannot be named all deny murder.
Mr Beresford, Mr Mensah and one of the 17-year-olds deny attempted robbery. The 17-year-old accused of stabbing Mr Mayley has admitted the charge of attempted robbery.
Mr Mensah is also accused of an earlier robbery on a 15-year-old boy on 28 January. He denies the charge.
The trial continues.