Central Line Tube passengers to be hit by Aslef strike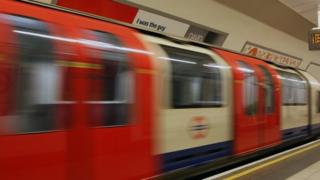 Commuters and visitors in London could be hit by major disruption on Friday as some Tube drivers strike.
Members of Aslef who work on the Central Line will walk out at 00:01 BST on Friday for 24 hours. The Waterloo and City Line will also be affected.
Aslef's Finn Brennan said the dispute was about "respect" for drivers and stopping the line's "bullying culture".
London Underground (LU) said the service would be "severely disrupted" and it was "disappointed" by the plan.
Mr Brennan, from the union which represents train drivers, said the managers of Central Line drivers "used a big stick" to run the department.
Workers 'in tears'
He said: "At its heart is management's refusal to treat drivers with the respect and dignity they deserve .
"Our members will not tolerate a situation where vulnerable people leave sickness review meetings in tears and drivers with years of good and long service are threatened with disciplinary action for a delay of 33 seconds in leaving a terminus."
LU said the two lines were used by up to a million passengers a day and the strike would see parts, or all of both lines suspended with no early morning or late night trains running and a reduced frequency at all other times.
Nigel Holness, LU's operations director, said: "Strike action is not necessary and we urge them to continue talks with us.
"We will have staff and volunteers across the network to help customers with their journeys but I advise people to plan ahead and check before they travel."
LU said it would be tweeting travel information on @TfLTravelAlerts and @centralline as well as updating information on its website.