'Sophisticated' spy camera cash machine gang jailed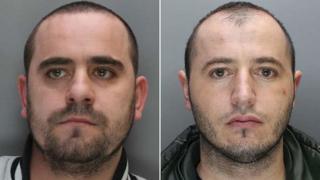 A gang behind a "sophisticated" bank card fraud has been jailed.
Florin Silaghi, Vasile Pop, Ovidiu Metac and Adriana Turc used spy cameras to scam card data from ATMs, downloaded the details and then copied them on to fake cards, the Old Bailey heard.
They compromised 953 bank accounts and took some £160,000, although they stole details from more than 60,000 accounts.
The Romanian nationals, who operated from Harrow in north-west London, were jailed for between 21 and 64 months.
'Fraudster's utopia'
Prosecutor Catherine Pattison said the four were responsible for "a large-scale, highly sophisticated, well executed ATM and counterfeit fraud".
Their operation was smashed in December when gadgets including cards traps, cloned cards and spy cameras were seized in police raids.
The Dedicated Cheque and Plastic Crime Unit (DCPCU) said the cards recovered had a street value of £16m - based on the amount stolen on average from a compromised card.
During the investigation, evidence of a method not seen before in the UK to steal card details came to light - spy cameras fitted to the side panel of cash machines, rather than the top panel.
This method allows fraudsters a better view of people's Pin numbers.
Det Insp Sarah Ward, from the DCPCU, said: "The premises we raided really were a fraudster's utopia, with a dizzying array of machines and gadgets designed to commit serious fraud."
Sentencing them, Recorder Douglas Day QC said: "Electronic card fraud is one of the scourges of the technological age... it causes significant loss to the banks and distress and inconvenience to the card holders whose cards have been compromised."
Silaghi, 30, was jailed for 64 months, Pop, 30, for 61 months, Metac, 25, received 43 months, while Turc, 27, was jailed for 21 months.
They all admitted to conspiracy to defraud and various other charges relating to the technical side of the operation.
The prosecutor said Silaghi and Pop were the key players, while Metac and his partner Turc had lesser roles.