North Middlesex University Hospital 'must improve', says CQC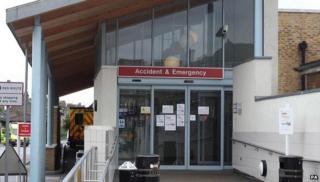 Emergency and end-of-life care need to be improved at the North Middlesex University Hospital, the health watchdog said.
The Care Quality Commission (CQC) rated the hospital as "requires improvement" but praised its surgery, children's and maternity care.
The hospital's trust welcomed the report, saying it had just been through a period of "massive change".
But plans to become a foundation trust must wait until its grade improves.
The CQC rated the trust as "good" for being "effective and caring", but gave its overall rating of "requiring improvement" because of the need to tackle several areas.
The report highlighted those areas which need improvement as medical care, outpatient services, training, record-keeping and the provision of ambulatory care.
'Massive change'
But family planning services were among the areas rated as "good", and the CQC also praised the trust's partnership with local care providers and its in-house database aimed at improving the quality of care given to HIV patients.
The CQC said extensive rebuilding had improved the "patient environment".
Professor Sir Mike Richards, the CQC's chief inspector of hospitals, said staff were "working hard" to meet increased demand after the closure of a local A&E unit, "but more needed to be done by the trust to make sure good quality care was maintained".
Julie Lowe, chief executive of the North Middlesex University Hospital trust, said: "We have been through a period of massive change, with 450 new members of staff, the building of a new maternity unit and the refurbishment of six acute medical wards, all within six months of the new-style CQC inspection."
The trust will only be able to achieve foundation status if it receives a CQC rating of "good" or "outstanding".