£20m Hindu temple funded by community opens in London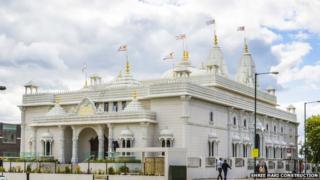 A Hindu temple has opened in north west London, funded entirely by the local community.
The ornate £20m Shree Swaminarayan Mandir temple in Kingsbury combines traditional Indian architecture and carvings with "green" technology.
It features solar panels on the roof and a rainwater harvesting system.
The temple's opening has been marked with a concert to celebrate the arrival of the sect's disciples in the capital 50 years ago.
As part of the development, the Greater London Authority agreed to the relocation of community space from Barnet to Brent.
The old temple site in Golders Green will be used to generate new funds that will go towards the temple's local community.
The new site includes a multi-function hall with facilities for sports and receptions, which will be made available to members outside the internal community under the terms of the temple's development.