Sabrina Moss's friend Sabrina Gachette 'can't accept' shooting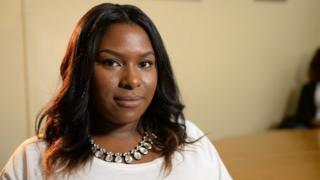 Almost a year after Sabrina Moss became the innocent victim of a gang feud in north London, her friend Sabrina Gachette gives her account of how her friend died and how she overcame fear to help convict her killers.
"There was nothing out of the ordinary... that could have warned us about what was to happen. We were just talking... then out of nowhere I just felt this weight on my back.
"I heard her [Ms Moss] say that she'd been shot in her heart. That's the last thing I ever remember her saying."
Caught in the crossfire of gang warfare, Sabrina Moss was celebrating her 24th birthday when she was fatally shot with a Mac-10 sub-machine gun as she sheltered from rain under a shop awning on Messina Avenue, Kilburn, in the early hours of 24 August 2013.
The bullet was fired "without warning" and travelled through her arm, piercing her heart. Her friend, Ms Gachette, now 25, was also hit by 50 shotgun pellets in the back.
Both women were taken to hospital where Ms Moss died, but Ms Gachette underwent surgery for serious injuries to her bowel, liver and back.
"A lot of the doctors would look at me... and say 'wow, you shouldn't be here, with the injuries that you sustained'," she said. "Some people referred to it as being a miracle.
"It's only recently being in court and hearing it I've realised just how close to death I actually was."
During the court case details of the hours leading up to the attack were revealed.
Yassin James, 19, and Hassan Hussain, 29, had tracked their prey throughout the night and convinced Martell Warren, 22, to drive them to and from the shooting location, although he claimed he thought he was taking them to a drugs deal.
James and Hussain planned to shoot Edson Da'Silva, a member of the South Kilburn Gang, and Mahad Ahmed, but opened fire when they had merged with about 13 others under the shop awning.
All three have been convicted of Ms Moss's murder.
"It is scary to think that you're just out minding your own business and someone could just creep up behind you and do something like that," said Ms Gachette.
"They don't know you. You know for sure that you don't know them."
The 10-week trial at the Old Bailey saw Ms Gachette face the killers in the dock.
She said: "I was really, really afraid.... [but] I plucked up the courage to stand up in front of them and give evidence. At first it was hard and of course emotional at times, but it was something that I had to do for myself and for Sabrina.
"It's been done for the wider community, it's been done for society. They're violent people that have been taken of off our streets."
Since the shooting Ms Gachette said she had tried not to think about the people behind it.
"Trying to work out the reasons why they did it, it's only going to frustrate me and it's only going to make me angry and those aren't things I want to be," she said.
"They've done what they've done, if they choose to own up to it that's their decision, if they don't they have to deal with it."
Asked whether her "fun and loving friend" was often in her thoughts, she replied: "I'd say no".
"Maybe I don't think about her because there's so much that comes with what has happened and it's really difficult to accept."