Hackney Heroine quits Lib Dem president bid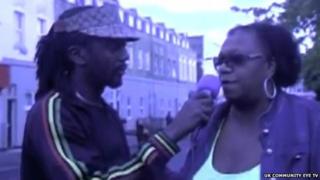 A woman dubbed the Hackney Heroine for standing up to rioters in 2011 has said she is standing down from the race to be Liberal Democrat president.
Pauline Pearce was bidding to take over the role from Tim Farron MP when his term finishes at the end of the year.
The 48-year-old claimed she had suffered from "underhand racism" during her campaign.
The party said it was saddened by the decision and would look into her claims "as a matter of urgency".
During the England riots, Ms Pearce gained fame as footage emerged of her shouting at a gang for vandalising a building in Hackney, east London.
She was filmed shouting: "I'm ashamed to be a Hackney person because we're not all gathering together and fighting for a cause, we're running down Foot Locker and thieving."
'Discrimination and prejudice'
In a statement on her Facebook campaign page, Ms Pearce said senior party figures would not support her because of her criminal record.
She added that she would remain in the party but was resigned to remaining "the token person who sits and smiles in the background" rather than being able to take on prominent roles.
She said: "I have always promoted the party as being the party of second chances.
"But since my running for president I have realised this party really is not quite what I thought it was when it comes to diversity and being inclusive."
A Lib Dem spokeswoman said: "We are upset that Pauline feels she has been subjected to discrimination and prejudice, as this behaviour is the opposite of the values of equality and respect we embrace and pride ourselves on as a party.
"We urge Pauline to report what she has experienced and will look at her concerns as a matter of urgency."