Police 'shouldn't confer' before shootings statements, says Met commissioner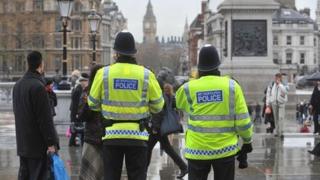 Police officers should not discuss shootings and deaths in custody with one another before writing up their notes, the head of the Met has said.
Met Commissioner Sir Bernard Hogan-Howe said on Thursday the force now accepts that "officers shouldn't confer".
The police watchdog has asked the home secretary to ban the practice and separate officers involved.
Sir Bernard said there were practical problems in separating officers and discussions were continuing.
Concerns have been expressed about the way evidence has been collected after police shootings, with the coroner at the inquest into the death of Mark Duggan saying officers meeting before making statements "created a perception of collusion".
'Moral obligation'
In a letter to the Independent Police Complaints Commission (IPCC), Metropolitan Police Deputy Commissioner Craig Mackey said officers should not "confer unnecessarily", but added the IPCC needed to recognise "limited conferring" could be required in some situations.
He said the current post-incident procedure "does not attract public confidence and needs to be made more transparent".
Writing to Dame Anne Owers, chair of the IPCC, Mr Mackey acknowledged witnesses had "a legal and moral obligation to record best evidence as soon as practicable".
The IPCC also wants to separate officers who are involved in incidents in which someone has been seriously hurt or killed.
In the letter, dated 6 August, Mr Mackey said the Met supported separating officers as one option to prevent conferring, but said in some circumstances separation could be harmful to an officer's mental health and could affect the evidence submitted.
The IPCC said it was "considering the responses" to the consultation on the draft statutory guidance on police post-incident management.
Body cameras
The Met has also announced its frontline officers will routinely wear body cameras by 2016.
The cameras, which will cost an estimated £9m, were introduced following criticism of the force over the death of Mr Duggan at the hands of armed officers.
The fatal shooting of Mr Duggan, 29, from Tottenham, north London, sparked riots in the area that later spread across England.
Sir Bernard said: "I would argue that this is going to be as significant a development as the involvement of lawyers, tape recorders and CCTV in detention areas and cells."
The cameras have been tried out by 10 London boroughs since May and on 7 August pencil cameras were given for the first time to a uniformed armed unit, the Trojan Proactive Unit.