Dean Mayley murder case: Teen admits stabbing during robbery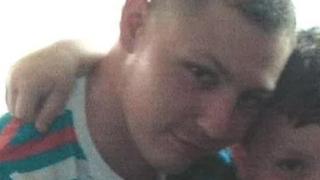 A teenager accused of murdering a man during a mugging in west London has admitted stabbing his victim, but claimed he only meant to "slice" him.
Dean Mayley, 24, who had learning difficulties, was stabbed in the heart while walking alone in Greenford in February.
His 17-year-old attacker, who denies murder, claimed at the Old Bailey that he never intended to kill Mr Mayley.
The youth, who cannot be named, has admitted a charge of attempted robbery.
'I thrust first'
Giving evidence, the teenager said he lashed out at Mr Mayley with a lock-knife.
The teenager, who was accompanied by two friends - Ryan Beresford, 19, and another youth, also aged 17 - claimed he "panicked" when Mr Mayley refused to hand over his mobile phone.
"I did not know what to do and I'm thinking 'is this guy going to hit me?' because of his body language," he said.
"I thrust out first. I hit him first - I did not intend to hurt him. I just meant to do a slice and that's it.
"I just ended up getting paranoid and he was getting aggressive towards me."
'Devastated and ashamed'
The accused and two friends ran to a car driven by a fourth defendant Michael Mensah, 18, the court heard.
When asked by his lawyer Sarah Forshaw QC how he felt about what happened to Mr Mayley now, he replied: "Devastated, disgraced, ashamed."
The teenager told the court he did not realise Mr Mayley, who had a mental age of nine, had a learning disability.
Mr Mensah, of Greenford, Mr Beresford, of Acton, and the other 17-year-old boy also deny murder, as well as a charge of attempted robbery.