RideLondon: Thousands ride in bike race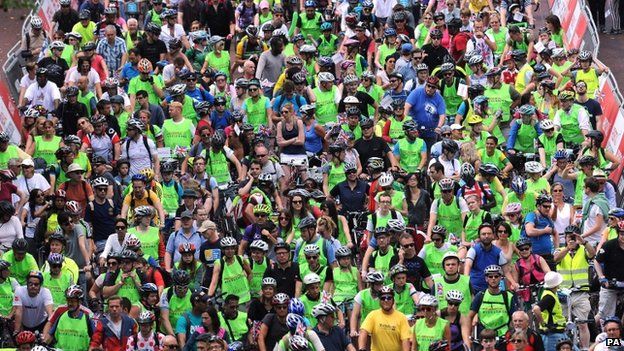 Thousands of cyclists have been taking part in rides and races as part of the weekend-long RideLondon event through London and Surrey.
Ten of the teams who just finished the Tour de France will be competing in elite events.
The 2012 Tour de France winner Sir Bradley Wiggins will on Sunday in that while double Olympic champion and Commonwealth gold medallist Laura Trott rode in a Grand Prix race on Saturday.
Saturday's event opened with Trott starting the 30-minute-long Guinness World Records attempt for the largest bicycle bell ensemble, which was broken when 639 cyclist took part in the event at Guildhall Yard, near St Paul's Cathedral, in central London.
This broke the previous record of 503 bell-ringers, set in Germany in 2003.
Trott, 22, who came fifth later in the day in the grand prix event, said it had been worth getting up early for what was her second world record.
She said: "It was really exciting. I was part of the one they tried to do last year and it wasn't successful so it was really nice to see happy, smiley faces at the end of it.
"Our team pursuit team actually holds the world record for the team pursuit so this is my second one."
She added: "For me, when I was growing up, there was never really those opportunities - they would never shut down a whole city.
"For cycling to have come that far and be able to do that is incredible."
Sunday's 100-mile race will take on Surrey's country roads and hills before returning to the capital to finish at The Mall.
But wet and windy weather has been forecast and the event's organisers have said the ride may be shortened by removing both Leith Hill and Box Hill from the route for rider safety.
Transport for London advised:
People travelling through London to plan ahead for road and bridge closures
Tube and rail will be the best way to get around
Drivers are advised to change their route where possible to avoid disruption
About 16,500 people participated in the inaugural race last year.
Related Internet Links
The BBC is not responsible for the content of external sites.