Diggers start removing waste from giant rubbish pile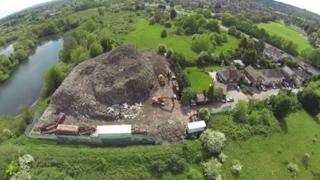 The Environment Agency (EA) has begun removing 2,500 tonnes of waste from a giant rubbish pile in south London.
The pile lies just yards away from a row of houses in Orpington where residents have demanded removal of the entire 20,000-tonne mound.
They have complained of fumes in their three-year fight to have it removed.
Workers aim to remove a burning 'hotspot' buried deep in the mound, which is thought to have caused more than 20 fires at the site.
Daniel Cartwright, borough commander for Bromley fire station, said the fires have taken more than 2,000 man hours to put out at a cost to the taxpayer of £650,000.
Residents living next door to waste pile said they were furious after a High Court judge in July threw out the latest legal challenge against the company responsible for the site, Waste4Fuel.
People living close to the site said they had not been able to open their windows because of the smell.
Jan Watkins, 60, said: "It is a plague. It is a living nightmare. You can't open your doors or your windows.
"The smell that comes through is like rotting corpses."
She accused the EA of acting too slowly and letting the mound get out of control.
Rob Wise, environment manager at the EA, said: "We understand the frustration of local residents and we will continue our fight against Waste4Fuel.
"It is not right that taxpayers should pick up the bill for this operation when it remains the responsibility of the site operator and landowners, but the priority is to make the site as safe as possible."