Sean Rigg's sister criticises delay over death in custody probe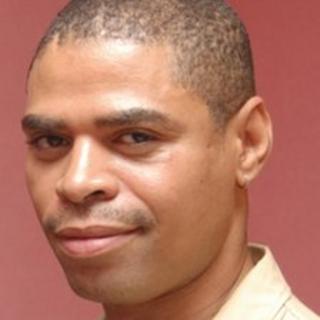 The sister of a man who died in police custody has criticised the "ridiculous" length of time prosecutors have taken to decide whether to bring charges.
Sean Rigg, 40, who had schizophrenia, died at Brixton police station, south London, in August 2008.
At a protest in London, his sister Marcia said the family was still waiting for answers.
A Crown Prosecution Service spokesman said it was considering the evidence and the case of Mr Riggs was "complex".
Ms Rigg-Samuel said: "The delays are a tactic I think, to wear families down and make them give up."
'Absolutely ridiculous'
An inquest into Mr Rigg's death in 2012 found police had used "unsuitable force" and in April a file was passed to prosecutors to consider whether two serving Metropolitan Police officers should face charges.
In March 2013, a sergeant and a police constable were arrested on suspicion of perjury and perverting the course of justice.
Ms Rigg-Samuel said: "It has been two years since the inquest verdict and the file has been with the CPS for four months and we're still waiting for an answer, it's absolutely ridiculous."
Responding to Ms Rigg-Samuel's statements, a spokesman for the Crown Prosecution Service said: "We fully recognise these cases are difficult for families and others concerned, and that the wait for a resolution can be frustrating.
"In the case involving the death of Sean Rigg, the IPCC has referred the case to the CPS because the Commissioner believes an offence may have been committed by officers who are alleged to have given inaccurate accounts to the IPCC and at the inquest.
"We are currently considering the evidence and this remains a complex issue."
'Right to know'
Relatives of Leon Patterson, who was found dead in a police cell in Stockport in 1992 and Habib "Paps" Ullah, who died after he was arrested in 2008, were also at the demonstration outside the Crown Prosecution Service.
Mr Patterson's twin sister, Stephanie Lightfoot-Bennett, said her brother was so badly injured she did not recognise him when she went to identify his body.
The third inquest into his death found his life ended through misadventure, contributed to by neglect.
She said: "My family has never recovered, we have a right to know what happened."
Relatives of Mr Ullah, 39, of Slough in Berkshire, said they were expecting to hear on Friday whether police would face criminal charges over the investigation into his death.
Mr Ullah was part of a group searched as they sat in a car in High Wycombe.
During the search by Thames Valley Police officers, he had breathing problems and later died in hospital.
Five Thames Valley police officers and a solicitor acting for police officers have been interviewed by the Independent Police Complaints Commission (IPCC) under criminal caution.