London C-charge text payment method could be scrapped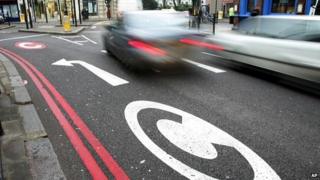 Text messages could be dropped as a method for drivers to pay the congestion charge in London.
Transport for London (TfL) has proposed scrapping the system in favour of a smartphone app, which would offer a variety of services.
It said only 400 of the 130,000 payments each day were paid by text.
An online consultation will run until 12 September, before the results are considered by the mayor of London's office.
'Copycat' site ban
The congestion charge is currently £11.50 a day, with drivers able to pay using a variety of methods including an online option.
TfL described the text payment method as "under-used" and said that with more people using smartphones, drivers need not go online or register to make a payment.
TfL also plans to stop accepting payments from "copycat" or third-party websites.
Some websites charge motorists an extra £8 on top of the congestion fee but the transaction does not always result in the payment of the charge, according to TfL.
A spokesman said if its plans were approved, anyone duped by a false payment site would have their circumstances reviewed and the charge could be waived.