Pawel Pacholak killing: Second missing convicted brother held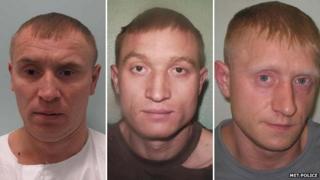 One of three brothers convicted of killing a man in London who went missing before he was sentenced has been arrested.
Jurius Tarasov and his brother Valodia failed to turn up in court after being found guilty of manslaughter on 24 July along with sibling Viktoras.
Officers arrested Jurius on Saturday night. Valodia was tracked down on 25 July after a police appeal.
The brothers had denied killing 37-year-old Pawel Pacholak in Streatham.
Jurius was arrested in Croydon town centre after a tip-off from the public, the Met Police said.
'So scared'
He is due to appear at the Old Bailey this week ahead of his sentencing for manslaughter, which has yet to be scheduled.
The three brothers - Viktoras, 29 of Aurelia Road, Croydon, Valodia, 35, of Abingdon Road, Streatham and Jurius, 33, of Barrington Road, Brixton - were found to have terrified Mr Pacholak, a Polish national, into jumping from a first-floor window in January 2013, the jury heard.
Mr Pacholak was "so scared" he "felt he had no option but to escape via a window", and suffered fatal injuries, police said.
"He would never have taken such drastic action had he not been in great fear for his safety," Det Chief Insp Andrew Chalmers said, after the brothers had been convicted.
Valodia and Viktoras were also found guilty of perverting the course of justice.