Christian activists lose gay bus advert challenge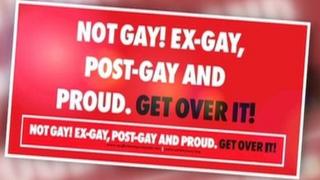 The High Court has dismissed a charity's claim the London mayor was responsible for a ban on a bus advert which suggested people could "get over" homosexuality.
The Core Issues Trust (CIT) had accused Boris Johnson of "currying favour" with gay lobby groups.
The mayor's office had rejected the CIT's claims.
Mrs Justice Lang said Transport for London (TfL) made the decision not the to run the adverts, not the mayor.
'Strongly influenced'
Giving a summary of her conclusions, Mrs Justice Lang said: "Mr Everitt of TfL was strongly influenced by Mr Johnson's opinion when he made the decision not to run the advertisements.
"Mr Johnson was not motivated by an improper purpose, namely, to advance his mayoral election campaign."
The probe was ordered by the Court of Appeal after it said an earlier ruling on the issue was flawed.
The posters produced by the Christian charity reading, "Not Gay! Ex-Gay, Post-Gay and Proud. Get over it!" were designed in response to adverts by gay rights group Stonewall which stated: "Some people are gay. Get over it!"
The advert was banned on 12 April 2012, the day before the mayor addressed an election rally organised by gay rights charity Stonewall.
In March 2013, High Court judge Mrs Justice Lang rejected the charity's allegations, ruling the ban was lawful.
However CIT obtained access to emails through a Freedom of Information request to the Greater London Authority, which they said proved that the mayor had acted to secure the gay vote.
'Justified decision'
After their claim was dismissed, the director of the CTI, Dr Mike Davidson, said despite media coverage of the bus campaign it was not until the legal challenge was launched "did Mr Johnson disavow the impression that the decision to pull our advertisement was his own rather than that of Transport for London, which he now insists".
Howard Carter, general counsel at TfL, said: "As we have always maintained, and the court has ruled, it was our decision not to run the Core Issues Trust adverts and there was no improper purpose behind our decision."