London theatre review: West End 'out-performs' Broadway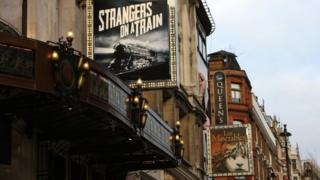 London's West End is out-performing New York's Broadway, according to new research.
The first London Theatre Report 2014 found that more than 22 million people attended performances in the capital last year.
Out of £618.5m taken at the box office, £403m was taken in the West End, 20% more than on Broadway.
However, it also stated London's industry faced challenges including aging buildings.
The report, commissioned by the National Theatre and the Society of London Theatre, contacted all 241 theatres in greater London.
It said the London scene was "pushing boundaries" and the average cost of a ticket was £27.76 - £36.05 in Inner London compared with £10.05 in outer London.
The report said of all theatre attendance, 92% occurred within Westminster, Camden and Lambeth, although box office takings dropped in Westminster from £396m in 2011/12 to £383m last year, which the report author Alistair Smith attributed to the Olympic effect.
The Mayor of London Boris Johnson said: "London is without doubt the theatre capital of the world.
"From the bright lights of the West End and our thriving fringe, to the rise of immersive theatre in the unlikeliest of places, the quality, variety and breadth on offer here is unrivalled."
But while the report found that more people attended the theatre than Premiership football games, it said it would be "foolish to ignore the fact that there are a number of threats to its future prosperity".
One threat raised was the aging buildings and the cost to run them, citing the collapse of the roof at the Apollo Theatre on 19 December.
The report also found that the industry employed more than 3,000 performers and a further 16,500 full, part-time and freelance non-performing staff.
Of those which responded, all performers in the commercial sector were paid the minimum wage while in the fringe sector "around a third are being paid nothing at all".
Nick Starr, executive director of the National Theatre, said: "These are valuable insights not only for the capital, but also nationally and internationally."