London West End 'cops' to mimic New York policing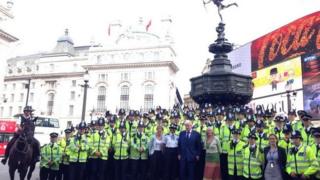 A team of 100 police officers will be deployed to London's West End in a move to mimic policing in New York.
Officers from Scotland Yard will patrol areas around Leicester Square, Coventry Street and Piccadilly Circus. They will also run a mobile police station.
The Met said it hoped the six-month trial would reduce crime.
Under the move the West End Impact Zone will see a minimum of 18 officers on patrol through the day which will increase to 23 at night.
Scotland Yard said the West End accounted for 48% of Westminster's total recorded crime with the designated areas the worst for violence and robbery offences.
A Met spokesman was unable to say how many officers usually policed the area.
The force said the initiative had been influenced by the New York Police Department's model for Times Square which had seen a 53% reduction in crime since it was put in place in 2001.
Mayor of London, Boris Johnson, said: "We are recruiting thousands of extra officers to strengthen frontline policing and putting extra cops into visible, neighbourhood roles.
"In learning from New York, the Met Police are going to make the West End even safer for all those who work and visit this landmark destination."
About 28 million tourists visit the West End annually, Scotland Yard said.
Nickie Aiken, a Conservative member of Westminster City Council, said the West End was a "unique" place with "substantial, and specific needs" and she "wholeheartedly" welcomed the move.
She said: "It is a major step in addressing some of the low-level crime that the sheer volume of visitors attracts.
"We have asked for, and been given, reassurances that the extra officers will not affect the crucial work done by the Met around the rest of Westminster."