Half of Charing Cross Hospital 'could be sold'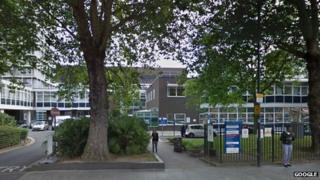 More than half of Charing Cross Hospital could be sold if plans to overhaul health services in north-west London are approved.
Under the proposals, 55% of the site would be sold and units including A&E, neurosurgery, stroke and urology would "move out" of the hospital.
The Western Eye Hospital and 45% of St Mary's could also be sold.
Imperial Healthcare Trust said: "There is no proposal to close our A&E at Charing Cross Hospital."
"We are awaiting further guidance from NHS England to guide the development of emergency services appropriate for a local hospital," a spokeswoman for the trust said.
Under the plans, the current Charing Cross Hospital building would be replaced with a £150m development and new, purpose-built facilities would also be built at St Mary's.
There will be a 24-hour urgent care centre at Charing Cross but the number of in-patient beds would fall from 360 to 24.
Andy Slaughter, the Labour MP for Hammersmith, said: "These proposals are worse than we were recently led to believe. Charing Cross will close as a major hospital if this goes ahead.
"It will be reduced to a primary care centre with some day surgery and treatment services.
"This is simply unacceptable to many west Londoners and we are going to keep fighting to save Charing Cross, which has been a landmark London hospital for almost 200 years."
The plans come despite Health Secretary Jeremy Hunt telling the Commons last year that Charing Cross's A&E unit would remain open.
On 10 September the trust's Hammersmith A&E will close, downgrading it to a 24-hour urgent care centres which generally care for walk-in patients.
"Following the closure of Hammersmith A&E, we have prepared extra capacity at St Mary's nearby for around 13 extra admissions a day by opening a 15 bed ward," Imperial Healthcare Trust said.
Emergency patients will be redirected to St Mary's in Paddington, although a report in May found it was already operating at "maximum utilisation".
Over the past three years, Imperial College Healthcare Trust has saved £127m but needs to cut £207m from its budget by 2019.
"Our proposals mean the sale of some land at Charing Cross and St Mary's will help fund new, purpose-built facilities which make better use of the estate, including a £150m development at Charing Cross," the trust said.
"We would also add 127 beds at our other hospitals and provide more and better care out of hospital."
The plans go before the board on 30 July.