Contactless payments due for Tube network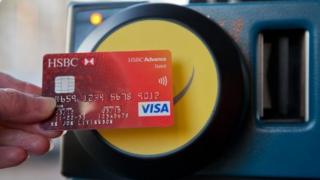 Contactless bank cards are to be introduced on London's Tube, DLR and Overground trains.
From 16 September, people can use the cards instead of having to top up their Oyster Cards, although these will still be in operation.
Transport users are being advised to avoid paying twice by making sure only one card touches the reader.
Contactless payments work in the same way as the Oyster cards by touching in and out on the readers.
'Easier for customers'
Only one payment will be sent to the bank or financial provider for payment.
In addition to daily capping - when travellers taking multiple journeys will not pay more than the cost of a Day Travelcard - a new Monday-to-Sunday cap will be introduced for those using contactless cards.
This will mean that the best value over the course of the week will be automatically calculated.
All UK-issued contactless American Express, MasterCard or Visa credit, debit, pre-paid or charge payment cards will be accepted for payment.
Other methods of contactless payment that meet financial industry standards, including mobile phones, may also be accepted, with users of the EE network able to pay via the Cash on Tap app.
Some non-UK cards may not be accepted and card holders should check with their issuers
One year late
Transport for London says the move follows a pilot of 3,000 customers.
Contactless payments have operated on London's bus network since December 2012 and have been used by about 825,000 customers for 17 million journeys.
The system's introduction is one year behind Mayor Boris Johnson's schedule, outlined in his 2012 Transport manifesto.
Caroline Pidgeon, leader of the Liberal Democrat London Assembly Group, said: "After such long delays in introducing this technology, we now need real honesty from the mayor and Transport for London, as to how contactless payment will really operate.
"Most importantly we need an absolute assurance that anyone without access to a bank account and who is unable to use contactless payment is not then excluded from the cheapest fare packages."
TfL said the delay was due to it being implemented in phases, while it had to work with the card payment industry to create the technology used.