Sex crime squad 'under-resourced' despite rise in child abuse claims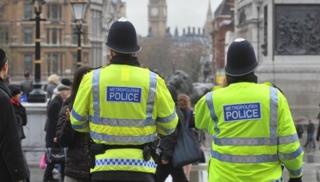 The Met Police's sex crime squad was left with dozens of posts unfilled, despite a rise in child abuse claims, a report has found.
Complaints of child rape and sexual assault have risen by a third in the past five years, but more than 50 roles in the unit were vacant in September.
The London Assembly said while on paper officer numbers were up, this did not reflect the number of unfilled jobs.
The Met said some officers on the team were not recorded in workforce numbers.
'Under-resourced'
In the report, entitled Keeping London's Children Safe, assembly members warned that the Sexual Offences, Exploitation and Child Abuse Command was being placed under serious strain following an increase in the number of sex crime allegations.
From 2008/09 to 2013/14 the number of child rape allegations in the capital increased by 52% - from 384 to 583 - and sexual assault claims by 68% - from 1076 to 1803.
The report also predicted the number of referrals made to the Met of cases of alleged child abuse - which is currently in the hundreds - could increase to up to 3,000 because of raised awareness.
The report said: "The Met has increased the Sexual Offences, Exploitation and Child Abuse Command's staffing to meet this increase, but evidence suggests that the command remains seriously under-resourced."
In September, despite vacancies in the unit, 150 officers were moved to other duties such as working on sex crime investigation Operation Yewtree, while a large proportion of staff on maternity leave had not been covered, the report said.
'Massively pressurised'
Caroline Pidgeon, deputy chair of the Police and Crime Committee, said the Met had made "many encouraging improvements" in how it approached safeguarding children.
But she said the force "must have sufficient resources in place to ensure robust enquiries, regardless of whether the case involved a celebrity many years ago or a neighbour or relative just yesterday".
Met Assistant Commissioner Mark Rowley said that the unit was a "massively pressurised area", but said some officers were working for the teams who had not been recorded in workforce numbers.
In March, he said 40 officers would be recruited into the team from the homicide command and another 75 were being sought to fill gaps.