Mayor Boris Johnson 'to miss 55,000 housing target'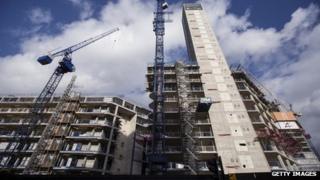 The Mayor of London will miss his target to build 55,000 affordable homes in the capital by 2015, statistics from a housing board have suggested.
Figures from the Homes for London board said that 52,749 homes will be built from April 2011 to March 2015.
London Assembly Green Party member Darren Johnson accused the mayor of breaking "a key manifesto promise".
A spokesperson for Boris Johnson said that he was "firmly on target" to deliver on his housing commitments.
'Manifesto promise'
The Green Party argues that Boris Johnson's manifesto in 2012 promised that the homes would be built by April 2015 and the mayor is including homes not funded by the Greater London Authority (GLA) to increase the numbers.
Board papers from the London Homes Board reveal that the mayor is set to build 55,000 homes, but the target would be fulfilled by December 2015 and would include 1,400 homes not funded by GLA money.
Green party member Mr Johnson said: "I'm dismayed that the Mayor expects to break a key manifesto promise on affordable housing for the second time by failing to deliver the 55,000 homes by the end of March.
"Instead of trying to move the goalposts, he should face up to this failure and start lobbying for a much bigger housing budget."
A spokesperson for the Mayor of London said: "With more low-cost homes being delivered in London this financial year than in any other since 1980, the Mayor is firmly on track to deliver his affordable housing commitments."
The Mayor's office added that the current target was to deliver 100,000 low-cost homes by the end of his second term in 2016, and so far 78,000 were completed.