Met Police gave cautions for 30,000 London offences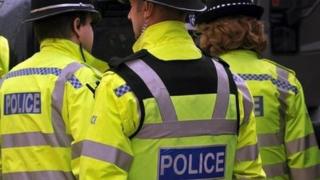 Police in London gave cautions for 29,560 offences last year, including for rape and violence, figures show.
Cautions were given in two cases of rape, for 284 other sexual offences and 1,356 for wounding. And 236 people were given cautions on more than five occasions.
Conservative London Assembly Member Tony Arbour, who obtained the figures, said criminals were being "let off".
The Met said cautions were a "serious matter" and were "not taken lightly."
The total number of cautions given in the year 2013 went up from 28,998 for 2012-13, the figures obtained under a Freedom of Information request revealed.
| Cautions 2012-13 | Cautions 2013-14 |
| --- | --- |
| Wounding/GBH: 180 | Wounding/GBH: 1,356 |
| Sexual offences: 165 | Sexual offences: 286 |
| Robbery: 131 | Robbery: 107 |
| Burglary 281 | Burglary: 246 |
| Theft/handling: 4,968 | Theft/handling: 4,957 |
| Fraud/forgery: 899 | Fraud/forgery: 215 |
| Criminal damage: 2,715 | Criminal damage: 2,838 |
| Drugs: 6,057 | Drugs: 6,022 |
The Mayor's Office for Policing And Crime also revealed to Mr Arbour that 879 offenders were given Out of Court Disposals - either cautions, penalty notices or community resolutions.
"The public can't have confidence in a system where so many offenders are dealt with outside of court, just so that cases can be disposed of quickly," said Mr Arbour.
"In effect, these people are being let off - some characters on more than five occasions. Cautions and fines should only be used as a warning the first time a criminal is caught."
He urged the Met to regularly publish the figures.
In a statement, a Met Police spokesman said: "A caution is a serious matter; they are not taken lightly and we are conscious of the consequences that this judicial disposal can have on a person's future.
"It should also be recognised that they are used predominately to deal with first time offenders and as an alternative to court appearance where guilt is admitted."