Competition to design Olympicopolis centre in Olympic Park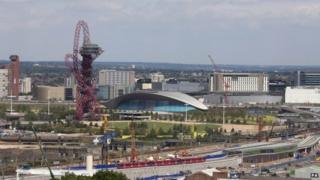 A competition has been announced to find a team to design a culture and education centre at the Queen Elizabeth Olympic Park in east London.
Architects, planners and engineers are needed for the Olympicopolis centre, which aims to showcase history, craft, science, technology and design.
It is hoped five finalists will be selected by March next year.
London Mayor Boris Johnson said the project would generate up to 10,000 jobs in the park.
The Victoria and Albert Museum and Sadler's Wells are planning to be a part of Olympicopolis, while University College London will move to a site south of the Orbit sculpture.
Both Transport for London (TfL) and the Financial Conduct Authority (FCA) are due to relocate to the park.
The mayor said the project would generate an extra £5.2bn of economic value from the area, contributing an additional £99m in tax revenue per year.
"Our goal is to create thousands of new jobs whilst driving up the life chances and opportunities of local people, to match those enjoyed across the capital," said Mr Johnson.
'Re-zoning' proposal
The idea for the site came from the achievements of Prince Albert, who used the proceeds of the 1851 Great Exhibition to create Albertopolis, the 86-acre site around Exhibition Road in South Kensington, which includes the Royal Albert Hall, the V&A and the Science Museum.
The mayor has proposed that three stations - Stratford, Stratford International and Stratford High Street - should be moved from zone three to two, to make it cheaper for some passengers.
A recent report also suggested that the "re-zoning" of stations could boost business and lead to additional people visiting the area.
But the Federation of Small Businesses said the plan would only create cheaper travel for some passengers and would depend on which direction they were travelling in.
A spokesman said: "We're finding our members are shifting out from the centre because of the cost of commercial property which is becoming more expensive.
"We're trying to encourage businesses to stay in London and what we don't want to do is overprice every zone in the capital, like we've seen the prices in Tech City shooting up.
"We need places for businesses to thrive in London and not keep sending people out from the centre."
If the plan is approved by the Department for Transport, it would take effect from January 2016.