Power to penalise owners of empty homes goes unused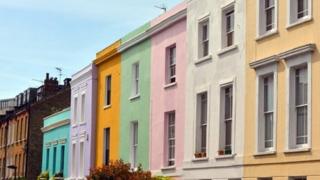 Powers to penalise developers who leave homes empty for years are not being used, a BBC investigation has revealed.
Councils are empowered to use the Empty Homes Premium to charge home owners 50% extra council tax if they leave properties empty for two or more years.
Yet Freedom of Information requests to all 32 London boroughs discovered that seven councils did not apply the charge to a single property.
There are currently more than 80,000 empty homes in the capital.
The power to penalise property owners for leaving homes unused came in last April.
But the BBC's research revealed a very mixed uptake by councils in London, where the UK's housing crisis is at its most acute.
'Scandal'
Kensington and Chelsea, Westminster, Bromley, Havering, Hillingdon, Kingston-upon-Thames and Merton did not tax a single empty property.
Responding to the revelations, Labour leader Ed Miliband told BBC London: "I am deeply concerned about this.
"I think it's essential not only that the Empty Homes Premium is used so we don't have this scandal of empty homes, but that we extend this power.
"At the moment it's only a power to charge 50% of council tax - we believe that should be 100%.
"This is a really important investigation. It shows the scandal of empty homes and it shows we need to act."
The BBC's research shows there are currently 80,489 empty properties in the capital - and in total only 4,399 of them were subjected to the Empty Homes Premium.
Properties are often left unused by developers or homeowners who are in process of renovating their homes.
But not all unused properties would have been eligible for it, as homes have to stand empty for at least two years before they can be hit with the charge.
'Ten year low'
Local Government Minster Kris Hopkins said: "This government has given councils the local discretion to remove council tax subsidies given to empty homes, and to impose a premium on long-term empty homes.
"However, it is up to councils whether or not to use these powers and they are just part of a wider package of initiatives and measures to tackle empty homes.
"The government's approach is working as the number of empty homes has fallen to a 10-year low."
Westminster Council stood by its policy of not applying the extra tax.
Daniel Astaire, cabinet member for housing, said: "We don't think the Empty Homes Premium works.
"Privately owned property is owned for a number of reasons by a number of people and it's not our part to interfere.
"The way to build homes is not to tax existing homes and stop people investing and buying in our city.
"We are a low-tax borough, we are proud of being a low-tax borough and we don't think this [the premium] will make any meaningful difference in the city."
But Gavin Smart, director of policy practice at the Chartered Institute of Housing, said: "I think the Empty Homes Premium is one of the tools in the toolbox and councils should have a look at using it.
"We do want to encourage existing use of our housing stock - and we do need to look at measures to ensure the homes that are being built are used to maximum effectiveness.
"We need to do that alongside building more affordable homes. But the measure is an effective one and councils should take it seriously."