Should London skyscrapers be sponsored?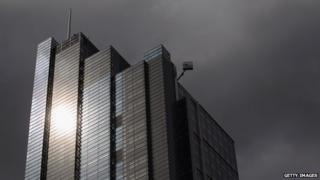 A row has broken out over a City of London firm's attempt to name the skyscraper it is based in after itself, but would it be a bad thing if landmarks in the capital were sponsored?
The Cheesegrater, Walkie Talkie and the Gherkin are all well-known nicknames for a cluster of skyscrapers which dominate the famous London skyline. But could they be joined by the Salesforce Tower?
The 230m (750ft) high Heron Tower could be renamed after one of its tenants, Salesforce, as part of a sponsorship deal.
The internet company has agreed to occupy six floors of the building, but part of the deal includes renaming it, which has infuriated another tenant - CEO Powa Technologies.
"We bought into the Heron Tower, a landmark in the City of London, and we had no idea the landlord might change that name to a sponsor's name," said its CEO Dan Wagner.
Salesforce has not commented but the building's owners, Heron International, think it is a great move.
"It's unfortunate that one of our tenants appears to be rustling up criticism and a dispute as a result, but the City of London have said this complies with name change regulations and we're sure that they will support this," said its deputy CEO Jonathan Goldstein.
"Salesforce has got towers named after it in Paris and San Francisco, so we're just following suit."
He claimed the vast majority of tenants were supportive and since it announced the change five more companies had signed up to join the tower.
The final say is with the City of London's planning committee, which decided on Thursday to defer the decision for two weeks. However, a planning report has already recommended it be approved.
Mr Wagner said there was a wider principle at stake.
"The idea that any major landmark in the City of London can be bought or sold by an advertiser - just imagine McDonalds Gherkin or Black and Decker Shard - I find that idea abhorrent and I'm sure that many people will feel the same," he added.
This of course is not a new thing in London - there is the BT Tower and The O2 after all.
And across the country, numerous football grounds and entertainment venues have been renamed after a sponsor.
"When a company can have an entire building named after them, I think that is amazing in terms of a brand because you just say take me to X brand's company building and that's a very powerful thing," said brand expert Jonathan Gabay.
"In this case it's quite dodgy because the company that they intend to name it after, their competitors are also occupying the same building in another part.
"The square mile of London used to be measured by its width, now we are measuring it by its height and that height is growing all over the place, all of the time.
"That skyline which is associated with London, when you start to associate it by saying that building is a brand, then people start getting a bit concerned."
But as the public purse tightens, many authorities are looking towards private funding for public projects. Mayor Boris Johnson has courted the private sector to help fund infrastructure projects - Emirates paid £36m towards the £60m cost of building the cable car across the Thames as part of a 10-year sponsorship deal.
There has also been the Barclays bike hire scheme, although these are more commonly known as Boris Bikes; however, this deal did not quite work out and the bank is pulling out of the scheme earlier than predicted.
There has also been talk of Tube stations being sponsored by brands.
Wandsworth Council, in south-west London, is also considering sponsorship as a way of funding a new bridge across the River Thames. If the bridge is sponsored, then it would be the first one in London to be named after a company.
A council spokesman said it was all about money.
"We can fund the bridge through business rates but we cannot fund the bridge all the way to the later stage as that money will go to the Northern Line extension."
He said the council might try to find money from other public funding sources. However, given the "location [near the American Embassy] and that we're looking for an iconic design... those qualities mean it would appeal to sponsors".
He added that he did not think this represented a major leap in the way public transport was funded.
But Mr Gabay says he thinks sponsorship of public projects will become a growing trend in London.
"In our modern consumer age we are getting more and more used to key things - not just buildings - but key things such as the Barclays bike [being sponsored].
"It's all part and parcel of our consumer, totally branded life."