Tulisa Contostavlos 'arranged drugs in film deal hope'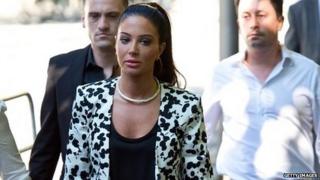 Singer Tulisa Contostavlos helped supply cocaine to an undercover reporter after he promised he could help her break into the movie business, a court heard.
Sun on Sunday reporter Mazher Mahmood posed as a film producer and told her she could get a part in a film starring Leonardo Di Caprio.
Her rapper friend Mike GLC supplied the drug at London's Dorchester Hotel.
Miss Contostavlos, 26, denies helping to broker the drug deal.
Southwark Crown Court heard Mr Mahmood, posing as a "big shot" film producer called Samir Khan, first met the singer in Las Vegas in March 2013 and again at the Metropolitan hotel in London's Mayfair in May.
Prosecutor Tim Cray said: "She thought he could get her a part in a big movie that was coming up and it seems that she was keen to be in his good books and be friendly with him.
Drugs boast
"During the talk at the Metropolitan Hotel, the defendant said she used cannabis to help get to sleep and that she had connections to drug dealers.
"She then went on to say that one of her ex-boyfriends was a major cocaine dealer and that, back in her young days, she had been part of a gang that sold crack cocaine."
Mr Mahmood told the singer about his plans for a night out at a strip bar later in May and the singer called him to arrange it and talk turned to drugs, it was said.
Exposed in the sting
The prosecutor said: "When the topic of drugs was raised, the defendant, Miss Contostavlos, said that she could definitely sort that out - that is, supplying cocaine to Samir Khan."
The former N-Dubz star, from Friern Barnet, north London, also sent him a text saying she could "sort him out" and put him in touch with Mr Coombs, the court was told.
Her rapper friend, Michael Coombs, also known as Mike GLC, met the reporter at the Dorchester Hotel on 23 May and handed him the cocaine, saying he had only gone to such trouble because he was good friends with the former X-Factor judge, the prosecutor said. The deal was taped and exposed in the newspaper.
Mr Cray added: "Therefore, although the defendant had not negotiated the price or amount, the crown's case is she had done all she could to make a supply of cocaine happen and the charge reflects her involvement in the supply of the drug."
On Monday, Mr Coombs, 36, of Enfield, pleaded guilty to supplying cocaine to the undercover reporter.
Miss Contostavlos pleaded not guilty to being "concerned with the supply of 13.9 grams of cocaine" for £860, between 20 May and 24 May 2013.
The trial continues.