Flagship Fulham free school wins last-minute reprieve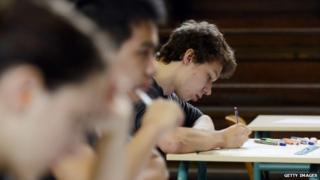 A new west London school which faced the prospect of leaving about 100 boys without a place has had its future secured.
Fulham Boys School (FBS) was forced to delay its opening owing to doubts over where it would be based.
The school was granted a longer lease for its current location after London Mayor Boris Johnson proposed a number of permanent sites.
It is now free to open in the autumn as planned.
FBS, one of the government's flagship free schools, had been told by the Department for Education in early July that it had to defer its planned opening because of "uncertainties" over where it would be permanently based.
The decision came weeks before about 100 boys were due to start at the school and was challenged by FBS because of the disruption it would cause students forced to find a new school at short notice.
Alex Wade, chairman of governors, said prospective pupils had already attended "transition days" to help them settle in but then faced a "frantic scramble" to find last-minute places elsewhere.
The government and Mr Johnson reviewed the school's case and City Hall has given it an extra year on its current lease to help it find a permanent home.
As a consequence, the Education Funding Agency (EFA) has agreed to release funds that will allow the school to open as planned.
Mr Wade said he was "delighted" with the change of heart on the school's opening.
"Whatever the agonies we've all been through, the 'can do' spirit shown by FBS parents, boys and staff has been quite remarkable in setting the foundations for a unique school," he added.
Mr Johnson said: "'There is enormous pressure on school places and a key part of my efforts to improve education across the capital is about helping groups secure sites to set up free schools."
FBS aims to have 800 boys attending by 2020.