'Heathrow City' designs unveiled by architects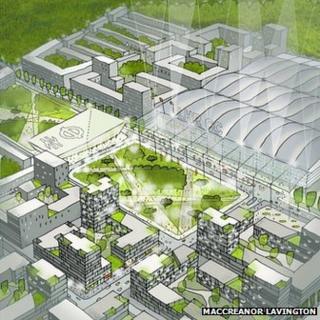 About 190,000 new homes, parkland or even a factory could replace Heathrow Airport in west London if it closes, designs unveiled by architects show.
'Heathrow City' designs have been commissioned by Transport for London and backed by Mayor Boris Johnson who wants a Thames Estuary hub airport.
Mr Johnson said Heathrow redevelopment was needed given the demand for homes.
The government-appointed Airports Commission will decide in 2015 on whether an estuary airport is feasible.
John Stewart, chairman of campaign group Hacan (Heathrow and the Heathrow Association for the Control of Aircraft Noise) said: "These are very exciting plans but the question is are they realistic?
"The big problem is that it would require the closing down of Heathrow Airport. While that would have big environmental advantages, it would also lead to the loss of a considerable number of jobs."
The Heathrow City plan envisions the future if the commission rejects plans for a third runway and selects the Thames Estuary option.
Architects Hawkins Brown envisages a factory for self-build modular homes on the Heathrow site where people could order homes to their own specifications.
Rick Mather Architects' proposal would see the Heathrow site becoming a new hub city by using the existing runways and terminals to define the structure of the city and connect 10 local centres.
Maccreanor Lavington's vision for Heathrow City aims to "develop a fully functioning city within the capital" and large tracts of woodland would be planted.
A technology campus would be built to the east of the current site along with new housing, and the Terminal 2 building would be renovated to become a civic centre and retail hub that would form the heart of the new community.
Mr Johnson said: "The demand for new homes and jobs in the capital is such that we must be ready to start redeveloping Heathrow the moment it moves to its new site. And the sooner we start planning the better."
But Labour London Assembly Member for Ealing and Hillingdon, Dr Onkar Sahota, said four studies last week suggested the mayor's "vanity project" for a Thames Estuary airport was "dead in the water".
"Anywhere from 115,000 to 200,000 people are employed because of the airport's location, and closing Heathrow would have a catastrophic effect on the economy of west London," he said.
The Airports Commission will decide next year whether the mayor's estuary plan will join plans to expand Heathrow and Gatwick runway schemes on the shortlist.