Loic Remy banned for drink-driving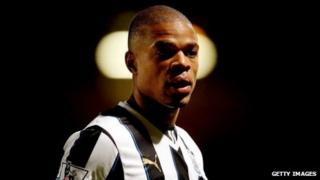 French striker Loic Remy has been banned from driving after being caught drink-driving in Northumberland.
The 27-year-old QPR player was on loan to Newcastle United when his Porsche Cayenne was stopped by police on the A696 in March.
A test showed he had 56mg of alcohol per 100ml of breath. The limit is 35mg.
Appearing at Newcastle Magistrates' Court, he admitted being one-and-a-half times over the drink limit and was handed a 14 month ban and fined £3,750.
The court was told he was driving on the dual carriageway at 04:15 BST towards his home in Ponteland, on Sunday 9 March, when he was pulled over by officers.
'Fallen short'
Defending, Jonathan Dunkley said Remy had admitted he had made a "very costly, very public mistake" after socialising with friends.
Speaking on behalf of his client, Mr Dunkley said Remy had "carefully monitored" what he had to drink and "felt perfectly sober" to drive himself and his friends back to his home.
Remy told him that if he thought "for one millisecond" he was over the limit he "would have paid £20 and got a taxi".
Mr Dunkley said: "This is a man who is a professional footballer, as you are probably aware, and he recently represented his country in Brazil.
"He sets himself incredibly high standards and he is very disappointed he has fallen short of those high standards today."