Embassies run up £82m London congestion charge bill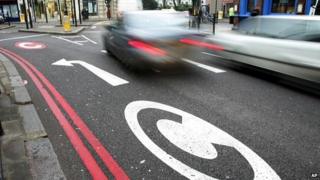 Foreign embassies in London have failed to pay more than £82m in congestion charge since 2003, figures show.
Since the daily charge was levied in 2003, the US Embassy has built up a bill in excess of £8.7m, followed by Japan at £6m and Russia with £5.2m.
In 2013, diplomats had 5,662 unpaid parking fines worth £541,599, the Foreign and Commonwealth Office said.
Transport for London says diplomats are not exempt from congestion charges and a "stubborn minority" refuse to pay.
The US, which has the largest congestion charge bill, has long maintained that diplomatic immunity exempts it from paying the congestion charge. It also had £1,075 in unpaid parking fines last year.
Paul Cowperthwaite, Transport for London's (TfL) General Manager for Congestion Charging, said: "We and the UK government are clear that the Congestion Charge is a charge for a service and not a tax.
"This means that diplomats are not exempt from paying it. Around two thirds of embassies in London do pay the charge, but there remains a stubborn minority who refuse to do so, despite our representations through diplomatic channels."
TfL said it was pushing for non payment of the charges to be taken up at the International Court of Justice.
Nigeria, Saudi Arabia and Zambia were the top three defaulters of unpaid parking fines.
In a written ministerial statement, Parliamentary Under-Secretary of State for Foreign and Commonwealth Affairs Mark Simmonds said: "The Foreign and Commonwealth Office has held face-to-face meetings with a number of missions about outstanding parking fine debt.
"In addition, in April this year we wrote to diplomatic missions and international organisations concerned giving them the opportunity to either pay their outstanding fines or appeal against them if they considered that the fines had been issued incorrectly."
Subsequently foreign missions paid up more than £197,400 of the parking fines owed last year, but £344,176 is still unpaid.