Putney Bridge closes for repairs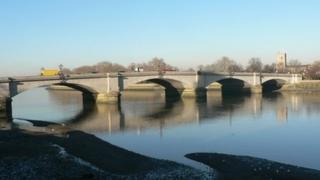 A bridge over the Thames in south-west London has closed to all motor vehicle traffic as it undergoes repairs.
Putney Bridge closed earlier on Monday and is expected to reopen in October.
Wandsworth Council said the £1.5m repair programme had been backed by a "majority of residents and businesses" following a public consultation.
Pedestrians and cyclists will still be able to use the bridge and buses will operate from both ends.
Drivers have been advised to change their route to avoid disruption.
Transport for London said bus passengers will have to cross the bridge on foot to continue their journey, but will not have to pay twice if their route was affected by the closure.
Wandsworth Council leader Ravi Govindia said: "These works are absolutely vital to protect the internal fabric of the bridge and ensure it lasts another 100 years.
"Our primary concern is to get this important job done efficiently and quickly so that there is the least amount of disruption to residents, businesses and the wider travelling public."
The council said it was decided the work would be carried out during the school holidays because traffic levels were at their lightest.