Plans to build boatyard for Gloriana 'dishonourable"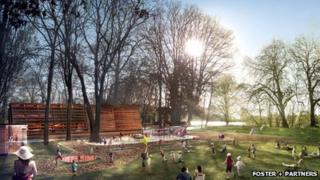 A row has erupted over "dishonourable" plans to build a boatyard for the Queen's barge, the Gloriana.
Some Richmond residents claim the council's plans for Orleans Park are "dishonourable" and will damage the ecology of the park and pose a threat to a playground.
Richmond Council said a new playground would be built and environmental studies were yet to be carried out.
The council has agreed to contribute "up to £1m" if the plans are approved.
The authority said it did not know how much the entire cost of the project was likely to be.
'Devastating blow'
The 94ft (28.6m) barge was presented to the Queen before a pageant of more than 1,000 boats sailed down the River Thames to mark the monarch's 60 years on the throne in 2012.
It is currently being housed temporarily at St Katharine Docks while a more permanent site is found.
But Mandie Adams McGuire, from Friends of Orleans Riverside, said: "We do not object to the beautiful Gloriana being housed in the borough of Richmond. Orleans Riverside is just fundamentally the wrong location.
"The nature and ecology of the area would be dramatically affected. The structure of the boathouse would be enormous - equivalent to 26 flats or seven houses.
"It would be a devastating blow to the area as it is so unsuitable. This is not an honourable project."
Richmond Council said the plans rely on Gloriana's owner, Lord Sterling, managing to secure funding from other streams before it contributes any funds and was also subject to planning approval.
In response to Ms Adams McGuire's comments, leader of the Conservative council Lord True said: "We would all applaud a number of the sentiments you put forward.... and will reflect very carefully."
In the proposal documents, the council states allegations about the removal of the playground where "wholly false" and a new one would be built.
A public consultation is due to end on 31 August.