Dorchester Hotel raided in moped smash and grab for second time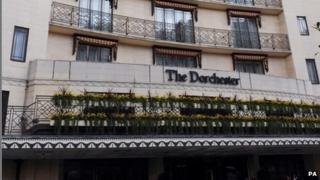 The Dorchester Hotel has been raided by a gang riding mopeds in the second smash and grab at the hotel in a month.
Three men from a group of six smashed their way through the hotel's front door at about 02:20 BST.
Display cabinets were targeted and some items were stolen before the men fled on the waiting mopeds, Scotland Yard said.
Three men and a woman have been arrested, the Metropolitan Police said.
The Met said it was trying to ascertain whether there was a link with another robbery at the hotel on 10 June.
In that raid, three men from a group of six who had arrived on mopeds entered the hotel's boutique and smashed jewellery and watch cabinets before taking some items and fleeing.