Sutton Council creates own housing company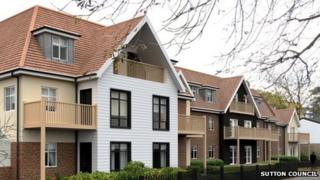 A London council has announced it is to operate its own housing company to build properties for sale and rent.
Sutton Council plans to build new family homes in the area and, working with a partner, take on other developments which have stalled.
The company, which is yet to be named, will be run by the council and both sell and rent private and council properties.
There are currently 1,249 people on Sutton's housing waiting list.
A further 350 applications are pending.
Councillor Jayne McCoy said: "By being involved in the development of new homes, we can stipulate that they are only for Sutton residents and make sure there is a focus on the housing we want such as family homes, rather than expensive studio flats.
"It shows what a council can do, despite ongoing government cuts," she added.
The Lib Dem council said it would be making use of funding and loan schemes to establish the company before using profits from rent and sales of properties to keep it running.