Junction plans unveiled to make cycling safer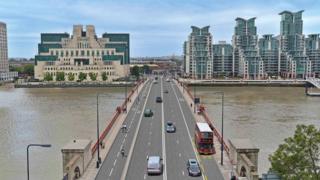 The first proposed changes to a south London road junction have been unveiled by Transport for London (TfL) in an attempt to make it safer for cyclists.
TfL plans a largely segregated cycle track to run from Oval across Vauxhall bridge to Pimlico on the north bank of the Thames.
The plans are the first stage in a larger overhaul planned for the Vauxhall gyratory system.
Westminster Council has presented three options for a revised route.
The junction at Vauxhall was branded "genuinely dangerous" and "the one I hate the most" by the London mayor's cycling commissioner in June after a fatal cycling accident there.
Andrew Gilligan, the London mayor's cycling commissioner, told BBC London 94.9 that the junction at Vauxhall is "unavoidable for thousands and thousands of cyclists".
About 3,000 use Vauxhall Bridge in the rush hour, comprising nearly a quarter of traffic during that period.
Under the plans, a continuous two-way cycle track will be built from Kennington Oval to Pimlico, through the gyratory system and across Vauxhall Bridge.
A public consultation which is now under way, will last until 14 September.